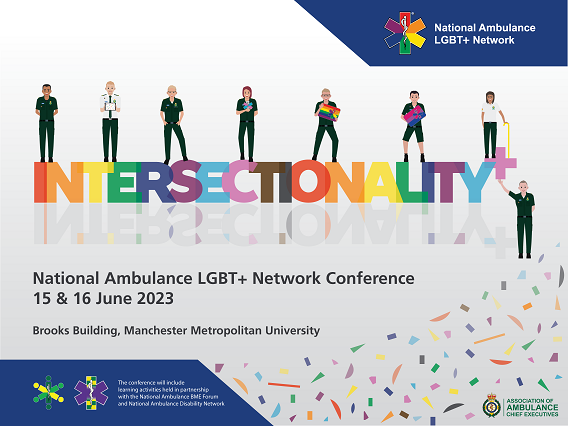 Programme
Download a copy of this year's conference programme using the links below.
Conference Theme
The title of our 2023 conference is Intersectionality+, and we will be considering how best the ambulance service can meet the needs of people with multiple protected characteristics as well demystifying the LGBTTQQIAAP acronym. If all that sounds ambitious we will also look at the role of allies in supporting the development of services and creating supporting environments for staff. It is for that reason we are looking for each Ambulance Trust to identify delegates from three specific groups to attend the conference. These are:
LGBT+ staff
People of influence
Aspiring allies
The first day of the conference will take the form of a traditional conference with keynote speakers and breakout workshops. The second day aims to be more informal and will provide a wide range of different learning experiences to engage with. Each delegate will be able to design their own learning experience from the options available. We are also delighted to announce the National Ambulance BME Forum and National Ambulance Disability Network will be taking part in the event to broaden the scope of the subject matter. As with all our previous events, you can expect some surprises along the way too.
Dates
15 and 16 June 2023
Venue
We will be returning to the fantastic Brooks Building at Manchester Metropolitan University for this conference. The decision to return here is based on the wonderful facilities the venue offers that perfectly supports the aims of this conference. The building is fully accessible and catering will be provided to meet all dietary requirements.
Registration
Registration for the conference is now closed.
Accommodation in Manchester
Marketing Manchester Convention Bureau is the official accommodation provider for The National Ambulance LGBT+ Network Conference.
All rooms are held on an on-line system, allowing you to book and secure your own accommodation using either pro-forma invoices or credit/debit card. If you require any assistance with your reservation, support is available via the Accommodation Booking Team.
To book accommodation for this event, please use the following link: Click here 
Negotiated delegate rates will be available to book until the end of the day on 19 May 2023, so please book as soon as possible to guarantee a room.
If you have any queries about the website, please contact Marketing Manchester Convention Bureau.
About Manchester
For more information on Manchester as a destination please log onto https://www.meetinmanchester.com ; here you will discover all things to do in Manchester - from events and attractions to fine dining and a great night out.
Download a digital version of the city centre map.
For city transport information please see tfgm.com.
Should you have any queries, please contact Manchester Convention Bureau at abs@visitmanchester.com.